Degrowth and CSR in the New Eco-Social contract
To reach our sustainable development goals, the world has to speed up the transition. For this goal, the UN research institute for social development (UNRISD) has written a manifesto, which discusses a "new eco-social contract".
In this article, Jeroen Lindhout discusses the limitations of this eco-social contract in its current form, by emphasizing that the largest role has to be played by transitioning away from unbridled capitalism. To succeed, two things need to be realized. First, "Degrowth Economics" is inevitable for the future. Second, Corporate Social Responsibility principles are an effective framework to initiate this transition to a degrowth economy.
Enjoy 10% discounts on your tuition at the UOC
Thanks to the agreement between UNA-Spain and UOC, you can benefit from a 10% discount on your following tuition fees at the UOC. The Universitat Oberta de Catalunya (Open University of Catalonia) offers a wide range of work-oriented courses and programs to reconcile work and studies with a 100% digital methodology with no schedules.
14 areas of study and more than 700 programs
Choose between a wide range of taught programmes in multiple areas: master's, postgraduate studies, bachelor, specialisations and much more.
Benefit from your discount
Enjoying the discount is very easy.
1. Get informed on the programmes at UOC's site.
2. Contact us, and we will give you your discount code.
3. Choose your programme, and check the calendar and the registration process.
4. Add the discount code to the registration form.
A call to the spanish and catalan government not to let down their youth
If one year and a half ago I had been told that on 2022 I would have my own youth-led research platform and I would be invited to a United Nations conference as an expert, I would have never believed it. And nonetheless, here we are, but the path has not been as easy as one can think.
The event I have attended is the High Level Conference on Youth-Inclusive Peace Processes, co-organized by the United Nations Envoy on Youth and the governments of Colombia, Finland and Qatar. It has tackled the issue of youth representativeness within peace efforts, highlighted its importance and worked on concrete measures for States worldwide to implement. As a result, my involvement in it is not a coincidence, but completely intertwined with the work I have been undertaking under the Think Tank I co-founded, Peace on Climate.
Peace on Climate was founded by four young researchers from Palestine, Lebanon, Albania and Spain who; gathered thanks to a programme of the Anna Lindh Foundation; believed that something very important was lacking inside the regular peace-making practice: the environmental approach. As obvious as it seems, the current environmental changes are intensifying the scarcity of resources, hence forcing many to extreme conditions which can often evoke a greater exposure to armed groups' recruitment, inter-regional and even inter-state competition.
It was because of our advocacy and networking with fellow youth-led environmental platforms also raising similar concerns that Peace on Climate was identified and recruited for the High Level Conference on Youth-Inclusive Peace Processes, and we could not be more excited about it.
From more theoretical and debate sessions about young women empowerment, the correlation between climate and peace or the intersectionality of fights; to practical and binding discussions about the protection of young people in the frontlines, the financing of the youth-inclusive peace and security agenda and the concrete measures to advance the presence of the youth in the peace-making efforts of their local community.
As Peace on Climate, but specially as young people ourselves, we were very happy to have been considered for such important event, as it means that more channels are opening up for the youth to express their voice and have a say at high level spaces. Besides, we are especially happy to see that an operational strategy for the inclusion of the youth into peace-making to be formalized has been finally elaborated, precisely under this High Level conference. Being its biggest outcome, this strategy is expected to take five years since its implementation by member-states, and it is cautiously detailed to achieve its goal through institutional action within five main pillars: protection and security; gender and intersectional identities; communication and norm-shaping; digital technology and innovation; and resources and funding.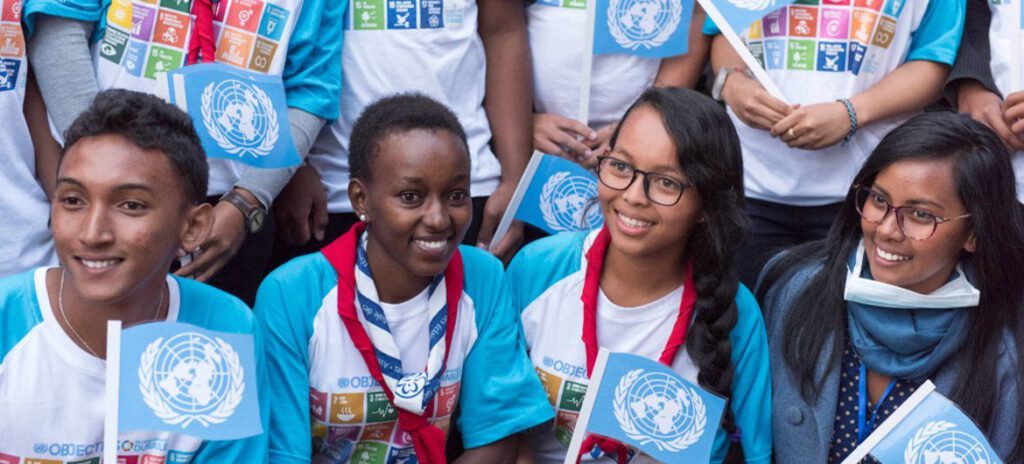 It is an unprecedented roadmap and action plan that eventually acknowledges the contribution of young people to world peace, and that focuses on real action and concrete steps that need to be taken instead of relying on ambiguous promises that seldom lead to any significant improvement. In addition, this roadmap is accompanied by a guide on how to frame the Youth, Peace and Security agenda at a country-level for public officials; something that now makes it impossible for governments to find an excuse when it comes to including the youth in the decision-making spaces.
It's time for the governments
After this High Level conference, governments have it easier than ever to take the political decisions that this inclusion of the youth requires. International organizations alongside young representatives, have been working during the preparation of this conference to deliver this five year strategy and guide so that states have all the information and tools they need to make a change, and so that excuses are finally over. The adoption of a more youth-inclusive government practice is therefore, from this moment on, no longer a matter of institutional resources, but a matter of political will.
It is, hence, our responsibility as active citizens and peace defenders to ask our governments to review the documents that this High Level Conference on Youth-Inclusive Peace Processes has produced as well as to adopt them; publicly stating their commitment to achieve both a more inclusive and a more peaceful society.
I consequently call both the Spanish Government and the Catalan Government to take action by joining Finland, Qatar, Colombia and other Member-States at starting this five-year journey towards youth-inclusive peace-making, hoping that they both respond to the demands and voices of their bright and inspiring young population. Please, do not let us down.
An article written by Bianca Carrera Espriu
2021. Report of the secretary-general on the work of the organization
Antonio Guterres, Secretary-General of the United Nations, lamented the impact of the coronavirus pandemic on the world. The effect of this has been felt at various levels beyond health, affecting the economic sphere, and human rights. The United Nations has been committed to providing financial support to some 160 countries affected by COVID-19, as well as in the field of education, where it has dedicated resources to enable children to continue their distance learning.
Guterres emphasizes that collaboration with governments and other institutions is key to meeting the Sustainable Development Goals and to fulfilling the 2030 Agenda. Among the challenges we have to face are reducing inequalities, fighting for gender equality, and investing in renewable energy sources. However, the climate crisis must lay at the core of the agenda.
It stressed the importance of including a gender perspective in the implementation of policies that respond to the above-mentioned challenges. To boost development programs in low- and middle-income countries, he emphasized that cooperation with international financial institutions will be key.
In terms of global climate action, the Climate Ambition Summit was held in December 2020, in which companies and cities presented their plans and commitments to meet the 2030 agenda.
With regard to global armed conflicts, the United Nations called for a ceasefire in order to be able to respond to the pandemic and for vaccination to be carried out. This decision was supported by 180 Member States and the Security Council. The efforts of United Nations peacekeeping operations and political missions to continue their work in such circumstances should be remarked, as well as the inclusion of women among peacekeepers, and the participation of youth in peace processes.
However, he stated that the pandemic has not been an impediment to continuing the fight for human rights. In the area of gender equality, for example, she called for more women to take leadership positions and for family planning programs to be promoted to control the birth rate. It also expressed concern about the significant impact of COVID-19 on women's access to medical facilities and the right to health.
To have access to the full document on the Annual Report, which includes a detailed study on the work of the organization in 2021, go to the following link: https://www.un.org/annualreport/es/index.html
Author: Noelia Gómez Bosqued, intern at ANUE
International Organization for Migration. World Migration Report 2022
The COVID-19 pandemic has hampered our lives in recent years. Its impact has been felt across its borders; having a significant impact on international mobility. Movement restrictions that have been put imposed, which have resulted in the closure of borders at the peak of the pandemic, have prevented mass population flows from one country to another. As months went by, restrictions on internal and international displacement were softened, as health measures such as the request for vaccination certificates were gaining ground.
In the context of a health emergency and population flows, Europe and Asia have hosted the largest number of international migrants, even though an increase in international migration has happened across all continents, in the period from the 1990s to the second decade of the 21st century.
Despite this data, trends show that most displacements occur within countries. In 2009, there were 740 million internally displaced persons; unlike international migrants, who only accounted for 3.6 per cent of total displacements.
Another aspect that helps explain the migration phenomenon is the "birth lottery". This explains how certain nationalities have less difficulties to access visas and agreements to be exempt from visas. The human development index is a determinant factor as well. Those countries that have a high human development index tend to be the destinations attracting most migrants. At the same time, migrants coming from countries with a low human development index will face difficulties in migrating legally, and will resort to methods of illegal displacement. The report stresses the fact that countries with a medium-high human development index are the main receiving countries of migrants and the destinations of remittances.
The report includes several chapters. Some provide data on migration, in terms of the global landscape, and some regional specificities. The impact of COVID-19 on mobility and migration in the world, as well as the impact of the technological revolution in generating disinformation on migration, are discussed in depth. The report also devotes a chapter to the impact of climate change on migration trends, how migration leads to human trafficking and how conditions of peace and security can facilitate development and safe migration.
To obtain further information about the report published by the International Migration Organization (IMO) about migration trends, access the following link: https://publications.iom.int/books/world-migration-report-2022
Author: Noelia Gómez Bosqued, intern at ANUE
29 November. International Day of Solidarity with the Palestinian People
In the context of the International Day of Solidarity with the Palestinian People, United Nations expresses its concern over the oppression to which the Palestinian people have been subjected by the State of Israel since 1947. The latest incidents in Sheikh Jarrah and in the Bedouin villages of Khan El-Ahmar and Kfar Adumim this year have further aggravated tensions between the two sides and the hope for a peace dialogue does not seem attainable.
Author: Noelia Gómez Bosqued, intern at ANUE
November 20th: Africa Industrialization Day
November 20th is the date that the United Nations marked for the celebration of Africa's Industrialization Day. This date leads us to reflect on the African continent: which is the situation of the continent, what its future prospects are and what tools are being used to promote its industrialization and economic growth.
Since much of the income of African countries comes from agriculture, special agro-processing areas need to be created to help promote agro-industrial development and employment. It is therefore important to promote diversification of the economy, as external factors may lead to greater volatility in the prices of these products. For instance, the main source of income of one of Africa's most promising economies, Nigeria, is oil, which accounts for almost all export earnings.
Therefore, to increase economic growth, investment in the services and industry sectors is needed. The COVID-19 pandemic has had a devastating effect at the global level, and has deeply affected many African countries, as it has caused the slowdown in trade and the paralysis of many economic sectors.
In any case, Africa has great potential for the coming decades, characterized by a favorable demographic profile, due to the growing youth population that will enter the labor market and will generate greater productivity. In addition, increased job opportunities in large cities will lead to high rates of urbanization and there is also a highly educated diaspora.
However, there are other challenges that the continent will continue to face, such as the terrorist threat, climate change, political instability and corruption, which will undermine its economic potential. The effects of climate change are already causing major droughts and desertification in some cases, and this will lead to a greater struggle to obtain essential resources such as water and will become a breeding ground for the presence of armed groups. In fact, factors such as political instability will drive away foreign capital investments in the country. That is why the presence of transparent governments that are accountable to citizens and that are committed to economic development is essential to boost industrialization.
Africa Industrialization Day was adopted by the Assembly of Heads of State and Government of the Organization of African Unity in July 1989 in Addis Ababa, Ethiopia. This date is seen as an opportunity for key stakeholders to reflect on Africa's industrialization and on how a transformation can take place on the continent.
One of the greatest achievements so far of the African Union is related to the Creation of the African Continental Free Trade Area (AfCFTA), which came into force in 2019 after obtaining the number of ratifications required. Trade under the African Continental Free Trade Area Agreement (AfCFTA) began on 1 January 2021. Once fully operational, the AFCFTA will create an African single market for goods and services, covering some 1.2 billion people, with a combined GDP of more than USD 2.5 trillion in 55 Member States.
The African Continental Free Trade Area, which will include the 55 member states of the African Union, will be the largest free trade area in number of participating countries since the formation of the World Trade Organization. "The agreement will mean a 52% increase in intra-African trade by 2022, according to the United Nations Economic Commission for Africa. It has the potential to lift 30 million people out of extreme poverty, and will contribute to the rising incomes of 68 million people, who live on less than $5.50 a day". (World Bank, The African Continental Free Trade Area).
This initiative, however, also has some weaknesses. The success of the African Continental Free Trade Area, among other initiatives that have been promoted in Africa in economic terms, is limited. Intra-African trade is characterized by specialization in few products and the production of raw materials for export, but in turn there is a lack of transport infrastructure that facilitates trade. That is why a series of policies must be put in place to strengthen African economies in order to boost trade subsequently.
Since the African Continental Free Trade Area Agreement involves the removal of barriers to trade between the countries of the African continent, the major economies of the continent that export goods to other countries will benefit the most. These include Morocco or South Africa, which have greater technical and administrative capacity to effectively implement and take advantage of new tariffs and customs procedures.
In this regard, African leaders must ensure that emerging industries and goods exported by smaller economies also benefit from the opening up of markets and thereby increase African trade. One aspect in which states must invest to increase the commercialization of goods in this new Free Trade Area is related to the infrastructure for the transport of goods by road or through the railway system. This investment should be especially large in landlocked countries and those with a lower degree of economic development.
A hopeful element is that, in addition to the great economic push that a free trade system will entail, increased intra-African trade can foster the creation of peace or stability on the continent. This is interpreted through the common interest. When two states have the potential to make profits through the exchange of goods, both parties are interested in producing this, and will not conflict. On the other hand, there may also be the following scenario: the absence of conflict between countries must be a sine qua non for it to produce trade.
The hopes for this new trade agreement in Africa are very high, even though the challenges at the infrastructure level or in terms of the right conditions to facilitate the exchange of goods are inevitable. However, if the political and economic scenario is favorable, the continent's growth in the coming decades will be remarkable, since further industrialization and diversification of the economy will mean being in a better position to market higher value goods with Europe, Asia or the Middle East. However, these issues will be progressively resolved as the African Continental Free Trade Area becomes operational and economies grow.
References
Colom, A. (2021, 17 November). Xina a l'Àfrica: perspectives econòmiques. Revista Idees.
Louw-Vaudran, L. (2021, 17 November). Work in progress as the AU prepares to celebrate twenty years. Revista Idees. https://revistaidees.cat/vint-anys-de-la-unio-africana-una-celebracio-sobre-la-marxa/
Redaction. (2021, 23 November). AfCFTA, el reto de África en el siglo XXI. ICEX. https://www.icex.es/icex/es/Navegacion-zona-contacto/revista-el-exportador/observatorio2/REP2019837326.html
Redaction. (2021, 17 November). Oportunidades de Negocio: Nigeria. Casa África. https://www.casafrica.es/es/oportunidad-de-negocio/nigeria
UNCTAD (2021, 20 November). Economic Development in Africa: Report 2020. https://unctad.org/webflyer/economic-development-africa-report-2020
Yong, L. (2021, 22 November). La década de la industrialización de África. El País. https://elpais.com/elpais/2017/02/16/planeta_futuro/1487262126_590328.html
Author: Noelia Gómez Bosqued, intern at ANUE
The CoFoE as a process of citizen participation
The Conference on the Future of Europe begins, a project that aims to strengthen the EU through citizen participation.
In this article, Helena Ripollés tells us about the challenges the CoFoE faces and the importance of following the UN guidelines regarding participation processes.
Food Systems summit 2021
The year 2021 has been declared by the United Nations General Assembly as the International Year of Fruits and Vegetables, in order to reduce environmental impact, promote increased consumption of these food groups and promote healthier lifestyles. In this article, Helena Ripollés, talk about the Food Systems summit.
The United Nations in Spain