A call to the spanish and catalan government not to let down their youth
25 January, 2022
A call to the spanish and catalan government not to let down their youth
If one year and a half ago I had been told that on 2022 I would have my own youth-led research platform and I would be invited to a United Nations conference as an expert, I would have never believed it. And nonetheless, here we are, but the path has not been as easy as one can think.
The event I have attended is the High Level Conference on Youth-Inclusive Peace Processes, co-organized by the United Nations Envoy on Youth and the governments of Colombia, Finland and Qatar. It has tackled the issue of youth representativeness within peace efforts, highlighted its importance and worked on concrete measures for States worldwide to implement. As a result, my involvement in it is not a coincidence, but completely intertwined with the work I have been undertaking under the Think Tank I co-founded, Peace on Climate.
Peace on Climate was founded by four young researchers from Palestine, Lebanon, Albania and Spain who; gathered thanks to a programme of the Anna Lindh Foundation; believed that something very important was lacking inside the regular peace-making practice: the environmental approach. As obvious as it seems, the current environmental changes are intensifying the scarcity of resources, hence forcing many to extreme conditions which can often evoke a greater exposure to armed groups' recruitment, inter-regional and even inter-state competition.
It was because of our advocacy and networking with fellow youth-led environmental platforms also raising similar concerns that Peace on Climate was identified and recruited for the High Level Conference on Youth-Inclusive Peace Processes, and we could not be more excited about it.
From more theoretical and debate sessions about young women empowerment, the correlation between climate and peace or the intersectionality of fights; to practical and binding discussions about the protection of young people in the frontlines, the financing of the youth-inclusive peace and security agenda and the concrete measures to advance the presence of the youth in the peace-making efforts of their local community.
As Peace on Climate, but specially as young people ourselves, we were very happy to have been considered for such important event, as it means that more channels are opening up for the youth to express their voice and have a say at high level spaces. Besides, we are especially happy to see that an operational strategy for the inclusion of the youth into peace-making to be formalized has been finally elaborated, precisely under this High Level conference. Being its biggest outcome, this strategy is expected to take five years since its implementation by member-states, and it is cautiously detailed to achieve its goal through institutional action within five main pillars: protection and security; gender and intersectional identities; communication and norm-shaping; digital technology and innovation; and resources and funding.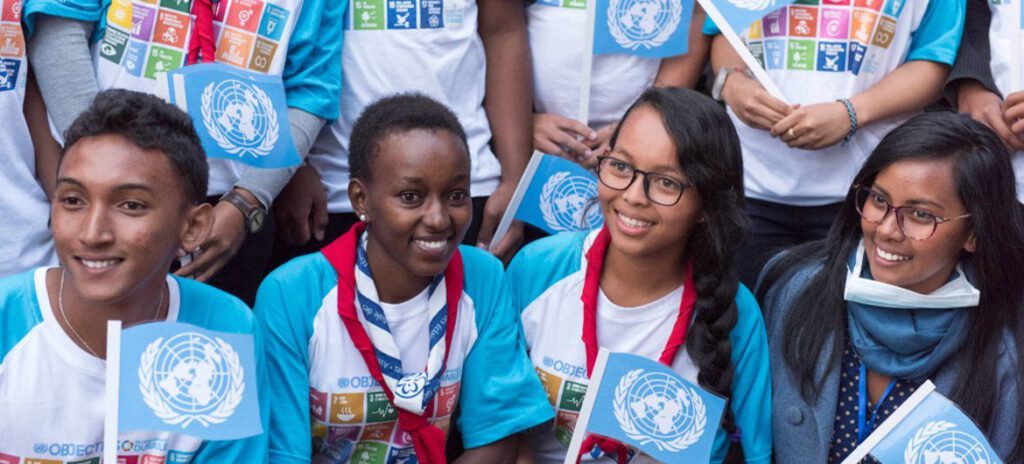 It is an unprecedented roadmap and action plan that eventually acknowledges the contribution of young people to world peace, and that focuses on real action and concrete steps that need to be taken instead of relying on ambiguous promises that seldom lead to any significant improvement. In addition, this roadmap is accompanied by a guide on how to frame the Youth, Peace and Security agenda at a country-level for public officials; something that now makes it impossible for governments to find an excuse when it comes to including the youth in the decision-making spaces.
It's time for the governments
After this High Level conference, governments have it easier than ever to take the political decisions that this inclusion of the youth requires. International organizations alongside young representatives, have been working during the preparation of this conference to deliver this five year strategy and guide so that states have all the information and tools they need to make a change, and so that excuses are finally over. The adoption of a more youth-inclusive government practice is therefore, from this moment on, no longer a matter of institutional resources, but a matter of political will.
It is, hence, our responsibility as active citizens and peace defenders to ask our governments to review the documents that this High Level Conference on Youth-Inclusive Peace Processes has produced as well as to adopt them; publicly stating their commitment to achieve both a more inclusive and a more peaceful society.
I consequently call both the Spanish Government and the Catalan Government to take action by joining Finland, Qatar, Colombia and other Member-States at starting this five-year journey towards youth-inclusive peace-making, hoping that they both respond to the demands and voices of their bright and inspiring young population. Please, do not let us down.
An article written by Bianca Carrera Espriu